When it comes to bathroom renovations, homeowners and interior designers are constantly on the lookout for innovative and stylish flooring options. In recent years, resin floors have emerged as a popular choice due to their versatility, durability, and aesthetic appeal.  There are many leading companies in the UK that specialise in Resin flooring, including Sphere8. For resin bathroom projects we continue to work closely with Sphere8, the leading company in the resin flooring industry.
Resin floors offer a vast array of design possibilities, making them a versatile choice for bathroom and shower flooring. Available in a wide range of colours and finishes, resin floors can be customised to suit any design concept or personal style. Whether you prefer a sleek and minimalist look or a bold and vibrant aesthetic, resin floors can be tailored to meet your vision, allowing for endless creativity in bathroom design.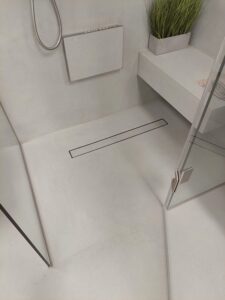 Advantages of Resin Floors
One of the advantages of resin floors in bathrooms is their seamless and waterproofing quality. Unlike traditional flooring options such as tiles or hardwood, resin floors do not have grout lines or seams that can collect dirt, moisture, and bacteria. This seamless surface is perfect for a walk in level access wet room shower.   Not only does it make cleaning a breeze but also ensures a hygienic and water-resistant environment.
However one of the main challenges when using resin in a shower area is the integration of the floor finish with the wet room drain.  It is important to use a wet room drain which is fit for purpose and can work with a thin poured flooring application.  A great example of this is WMs Pourflex drain, which integrates perfectly with the Resin.
Considerations
While poured floors offer numerous advantages, there are a few considerations to keep in mind before choosing this option for your shower:
Professional Installation: Poured floors require professional installation to ensure a flawless and durable result. Hiring experienced installers will ensure that the surface is properly prepared and the resin is applied correctly, leading to a successful installation.   WM provide wet room drain to professional companies such as Sphere8 for this application.
Cost: Poured floors may have a higher upfront cost compared to tiles. However, they provide long-term benefits, such as durability and low maintenance, that can offset the initial investment.
Surface Temperature: Unlike tiles that tend to remain cool, poured floors can be sensitive to temperature changes. It is advisable to use underfloor heating systems or place bath mats in colder climates to ensure a comfortable shower experience.
Resin Floor Wet room Installation

(Images Supplied by sphere8)
Conclusion
The use of Resin floors in wet room showers has gained immense popularity due to their versatility, durability, and aesthetic appeal.  With their compatibility with underfloor heating, ability to seamlessly blend with any design style and resist water damage, it's no wonder they have become a go-to choice for homeowners and interior designers alike.
If you're looking for wetroom products suitable for use with  Resin floors, get in touch with our expert team.