Wood Wharf is a new district in Canary Wharf which is creating a vibrant new urban quarter. The size of the project itself posed a challenge due to the logistics of the building. There were many restrictions when conducting multiple sections of work at any one point.
The decision to have the wet rooms and bathrooms constructed off site by POD manufacturing would mean that time spent on site would be drastically reduced. A bespoke drainage offering would have to be made available in order to present a drainage solution that would fit within the confines of the POD system.
Due to the nature of the project, a sophisticated design would be needed within the bathroom in order to tie in with the rest of the interiors of the residential apartments.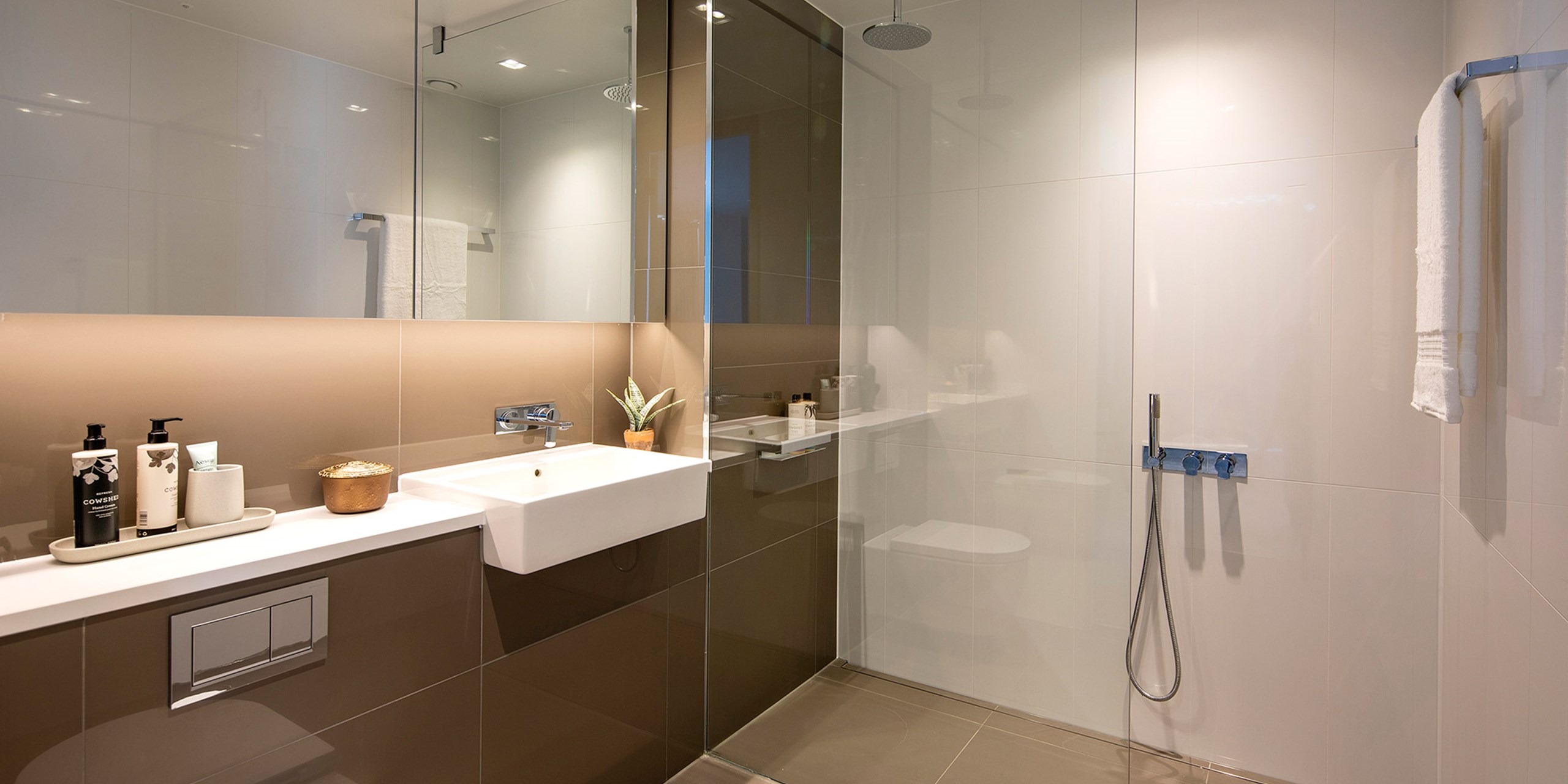 Wetroom Materials worked closely with the POD Manufacturer to present a wet room system that would be able to adapt to the demands of the POD construction. Wetroom Materials have a range of different channel lengths that can be used on a variety of projects with different requirements; a channel length was specified around the parameters of the space available.
Due to the limited floor depths within the suggested POD construction, Wetroom Materials offered a low-profile, shallow drain system starting from just 64mm, that still has the capacity to take a large flow rate.
On the back of Wetroom Materials' advice, the wet room design was altered to have the drain running along the long wall in order to minimise the required floor depth. This allowed us to slope the floor space to allow the water to fall to the drain gulley, whilst still providing a level entrance point across the threshold to the shower area.
The drain finish chosen was the HighLine Panel and Frame. The reason for this choice was to provide a clean, minimalistic finish that kept in line with the high-end nature of the entire project, while still providing a function and durable product that will stand the test of time.
In succeeding to provide a drainage solution that adapted to the requirements of a POD construction, Wetroom Materials were able to reduce the project timescale and increase the site's work efficiency.
To find out more about our wide range of products and case studies, contact us today.