It's safe to say that a wet room makes the most luxurious addition to any property. Whether it's within a home, or as part of a commercial project such as in hotels or sports facilities; wetrooms are designed to impress. Back in 2003, we introduced luxury Scandinavian design-led bathroom products into the industry. Since then, the interest and desire for wetrooms has grown considerably.
With this experience in mind, we've put together this guide filled with wet room ideas to inspire architects, designers and enthusiasts to create a wetroom designed to wow, helping you to create an effective and professional finish to every project. From wet room tiles and floor ideas, creating a wet room in small spaces to the principles of Japanese design, find your wet room design inspiration here.
Modern Wet Room Design
Is your aim to create a modern shower room for your client? Wave goodbye to dated shower trays and enclosures, and instead welcome the luxury walk-in shower. Our wet room kits and drains are inspired by minimalist and modern Scandinavian design principles. Available in a range of metallic finishes, you can pair our bathroom products with a full range of tiles and flooring options; concrete and wooden, the choice is yours.
Commercial Wetroom Design
Commercial wet rooms are our speciality. One of our recent projects was working with Soul Cycle, one of the most iconic indoor cycling brands in the world. As part of this wet room project in London, we supplied linear and point drainage to numerous studios, as well as creating falls in the showers, installing waterproofing within the showers and changing rooms. For this client, performance, longevity and aesthetics were key, something we were able to deliver with our high-quality range of wet room products. Take a look at some of our further commercial bathroom design pictures…
Small Wet Room Ideas
In commercial and domestic property, every inch of space is precious. Did you know that some of the best wet rooms are created in small and narrow spaces? Elements of a bespoke wet room are highly adaptable, from compact drains, frameless designs and other wall hung bathroom features. You may have to sacrifice a bath in a small wet room, but you can more than make up for it with a large showering area with a frameless open shower to create the illusion of more space. When it comes to the installation of a wetroom in a small bathroom space, we advise you to use Scandinavian design principles; less is more, and each item/feature in the room must truly be necessary. View some more of our small wet room ideas below…
Luxury Wet Rooms
Wetrooms are all about luxurious living and extravagant experiences. What says luxury more than a floor to ceiling showering space? To create the highest quality wet room, you need reliable wet room kits that you can trust, promising longevity and functionality. As well as this, the overall look and feel of the space is key. We offer a range of metallic finishes for our wetroom products, drains and accessories; Black, Brass, Copper, Brushed and Polished Stainless Steel. To provide the best finish the colours are PVD coated which is a very durable coating that will not tarnish or fade.
Whilst it might not be your first thought, the choice of wetroom drain has a significant impact on the project. Choosing the incorrect drain can not only ruin the look of the wet room shower space but also result in drainage issues and water pooling. If you would like a little more information on wet room drains, we're more than happy to help.
Don't forget other luxury features such as underfloor heating, mood lighting and low-level lighting; these will help take the level luxury up a notch!
Wet Room Accessories
In a luxury showering space, it's the little details and finishing touches that really make all the difference. Our range of wetroom accessories are grounded in Scandinavian design, intended to impress and feel luxurious. Whether your aim is to create a masculine feel with matt black features, or you want to use another marvellous metallic finish; you'll find just what you're looking for with us. Provide the full package to your client, and suggest key finishing touches you can install in order to make their wetroom just right for them. Why not take a look at our article on accessories that every wet room needs for some further inspiration?
Scandinavian Design for Your Wet Room
Our full range of wetroom and bathroom products are designed with Scandinavian principles in mind; simplicity, utility and beauty. If the aim for your project is to create a minimalist wet room with clean lines, whilst also delivering the 'wow' factor, our products are for you. Take a look at some of our Scandinavian bathroom design ideas…
Japanese Wet Rooms
Japanese wet rooms are excellent for some design inspiration. Unlike in western culture, the Japanese believe bathing should be used for relaxation, rather than simply cleansing. Their design principles also go hand in hand with Scandinavian design; taking a minimalist and clean approach, with frameless glass panels and clean lines.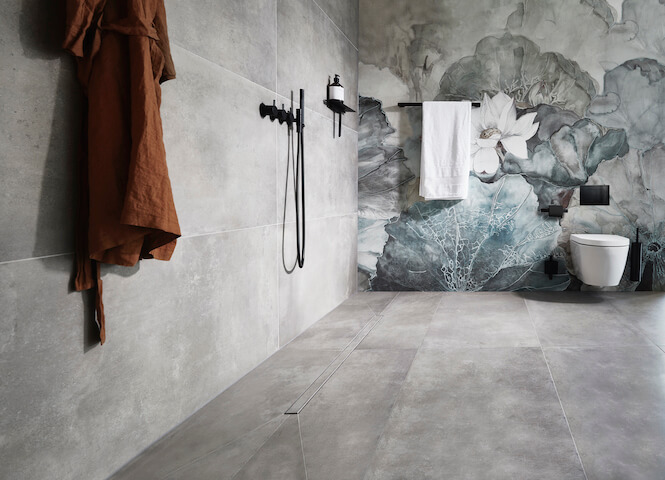 Disabled Wet Room Designs
One of the best things about wetrooms compared to bathrooms is how adaptable they are, they can be made bespoke to a client's needs and requirements. This is key when designing a showering space for the elderly or disabled. From level access showering areas, wall hung sinks to making the most of the space for wheelchair users; you can create something that's safe, functional and pleasing to the eye. If you would like further information on disabled wet room designs, take a look at our blog.
Wet Room Systems & Wet Room Installation
The final key to creating a high-quality wetroom is through using the right wetroom system, as well as ensuring installation is carried out by a professional. Installing a wet room correctly is imperative to avoid leaks and water damage occurring to the property. We understand the technicalities and logistics of installing a wetroom so that our customers can rest assured that it is fitted correctly by our team of wet room specialists. The full responsibility for the project lies with us in the process from start to finish; rest assured with our CCL customer care line.