Linear shower drains are an essential part of your wet room drainage system. Also known as shower channels or wet room gullies, our linear drains for wet room and shower floors are suitable for both domestic and commercial environments, and are top of the range when it comes to durability and flow rate. We offer a range of linear drain options for different floor finishes and depths.
Our wet room linear drains range from 300mm to any bespoke length, with multiple cover styles to suit your requirements. Linear drains can be used with micro cement, polished concrete as well as a tiled, vinyl, and stone floor finish.
Our linear wet room drains can be purchased on their own, with separate sloped boards or come integrated into the board, sealed with a factory-supplied fitted gasket with  a range of different entry points. The preformed boards have the ideal slope / fall already built in. These linear gully drains can be easily cleaned by removing the grate / tiled cover and trap.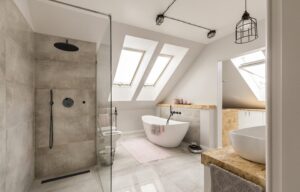 The Wet Room Materials Range of Linear Wet Room Drains
Choosing the right linear shower drain for your wet room is essential for your project. Consider factors such as the material of the floor finish, the adhesive being used, and any additional materials like underfloor heating or decoupling mats. The combined height of these materials along with the capacity of the shower, will determine the most suitable linear drain for your specific needs.
Our range of linear wet room kits and drains is compatible with both wooden and concrete sub floors and are suitable for a wide variety of floor finish materials, including tile, mosaic, concrete, and vinyl. We offer a diverse selection of floor drains that can accommodate not only different tile thicknesses but also drains specifically designed for certain floor finishes.

Our range of wet room linear drains includes the following:
Where to put your linear wet room drain
One of the benefits of our linear drainage systems is their flexibility and selection to choose from. You can choose to place your linear shower drain practically anywhere in your wet room space. This makes it incredibly easy to work around obstacles such as joists or pipes.

A linear shower drain system for your wet room will have a central outlet that is connected to a waste trap which catches and drains the water. If you find that there isn't space to install the waste trap, or there is an obstruction, we offer waste traps of different dimensions that can remedy this, as well as drains with offset waste traps for projects that are particularly difficult.  The capacity of our drains ranges from 30ltrs per minute to over 90ltrs per minute with one outlet.
Our range of linear drains offers flexibility when it comes to choosing your ideal location for the water channel.
Determine the flooring for your linear drains
When it comes to installing a wet room drainage system, you need to determine the type of flooring to use in your wet room, as there are specific linear drain models available for different types. You may need a drain with a low installation depth due to sub-flooring constraints and the chosen floor finish, or a drain specifically made to prevent water leaking for a vinyl floor finish.
Luckily, we can help you choose the right type of drain for your flooring. If you're still unsure, get in touch with our team of experts who can further help.
Poured Concrete or Resin Finish
This type of flooring will work perfectly with our range of linear shower drains for your wet room. The most important thing to consider with concrete flooring is the depth of subflooring. With this in mind, you should be able to find an appropriate linear wetroom for your project.
Drains we recommend for concrete flooring:
Vinyl Floor Finish
Vinyl is an artificial material that can be designed in various colours and patterns. It's easy to clean, sustainable, and comfortable. Because of their water resistance, they are great for use in wet rooms and bathrooms and are designed for heavy usage.
This flooring will require a specific type of drain and grating that fits over the cut in the vinyl floor, products that we recommend are:
Stone Floor Finish
Natural stone is a popular choice for providing a luxurious and elegant look. Granite, quartzite, slate, travertine, limestone, and marble are all popular choices. When choosing a drain for a natural stone floor, it's important to find a model that best suits the natural look of the floor as well as the sloping.
Drains we'd recommend for this type of flooring are:
Ceramic tiles
One of the most common types of flooring used in modern bathrooms, these tiles are easy to clean and can be found in a large variety of colours, patterns and sizes. They're created from clay and sand, and are baked at temperatures over 1000 °C to create the durable material used in wet rooms. These tiles have the additional benefit of being used on walls as well. Not only are they fashionable, but they are sustainable as well.
Any type of drain can be used with ceramic tiles as long as it makes sense for the house and project, though some we'd recommend are:
Any Unidrain drain

Any Sharpdrain drain
Choosing the grate finish for your linear wet room drain
Once you have decided what kind of wet room design theme you are going for, you can then choose your grate finish to fit in line with the rest of your bathroom. The right choice of grating not only enhances the aesthetic appeal of your shower or wet room but also ensures efficient water drainage and prevents clogging.
Our wet room shower drains are available in a variety of materials and colours.
Stainless steel is a popular choice, as it offers both aesthetic elegance and excellent durability, ensuring long-lasting performance in wet environments.
We offer the following colours in stainless steel:
Brass

Copper

Polished stainless steel

Black

Nickel
See our range of coloured wet room drains here.
Our most popular wet room drain finish is where you tile on top of your drain to create an invisible drain, we have several solutions available to achieve this look wetroom drains  If you are looking for more information on linear wet room drains, or have any questions about how we can help with your wet room project, please don't hesitate to contact us – we can't wait to hear from you!
FAQs
How Do Linear Wet Room Drains Work? 
Our linear drainage system offers unparalleled flexibility and an extensive range of options. When it comes to wet room linear drains, you have the freedom to install them virtually anywhere within your wet room space. Their versatility is particularly advantageous when faced with challenging barriers and obstacles like joists or pipes.
Each linear drain channel is equipped with a central outlet that connects to a compatible waste trap, serving as the essential component of your shower's drainage system. In the event that the outlet in the linear drain is obstructed, we provide various waste traps with different dimensions to address this issue.
Should you require a linear drain that deviates from our standard lengths or outlet positions, we provide a bespoke drains tailored to your specific needs.
Feel free to contact us via phone or email to discuss your requirements in detail.
How Do You Keep Linear Shower Drains Clean?  
Maintaining your linear drain is a straightforward process that does not involve any complex cleaning procedures. With every linear drain, we supply a lifting key that allows you to effortlessly remove the drain cover. Additionally, each waste trap accompanying our linear drain features a removable hair guard and column, enabling easy access and cleaning of the inner components of the waste trap.  
We additionally offer a maintenance kit that includes everything you need to keep your wetroom up to par. The kit includes:
Cleaning hook

Drain strainer

Cleaner to remove lime scale and grease

Polish Paste to treat chrome, stainless steel, tiles, and sanitary ware

Cloth for cleaning the drain, sanitary ware, and tiles

Cloth for a streak-free finish
Our linear drains are crafted using stainless steel, ensuring exceptional resistance to corrosion and rust. However, proper installation and regular maintenance are crucial to maximise their longevity. Detailed installation instructions are provided to offer guidance and prevent future issues. Moreover, we have outlined some simple steps below to assist you in maintaining your linear drain effectively.
To keep the drain free from dirt and soap scum, we recommend regularly cleaning it with a suitable bathroom cleaning solution, followed by a thorough rinse. For any ingrained dirt or potential obstructions that may accumulate and hinder drainage, gently scrub the drain with a soft cleaning brush and thoroughly rinse.
Take a look at our wet room maintenance document for further instructions.